8. Auto Racing: NASCAR Pure Michigan 400 (Sunday 1pm from Brooklyn, MI live on ESPN)
I know a Clint Bowyer fan who is very offended by your traditional NASCAR stereotypes…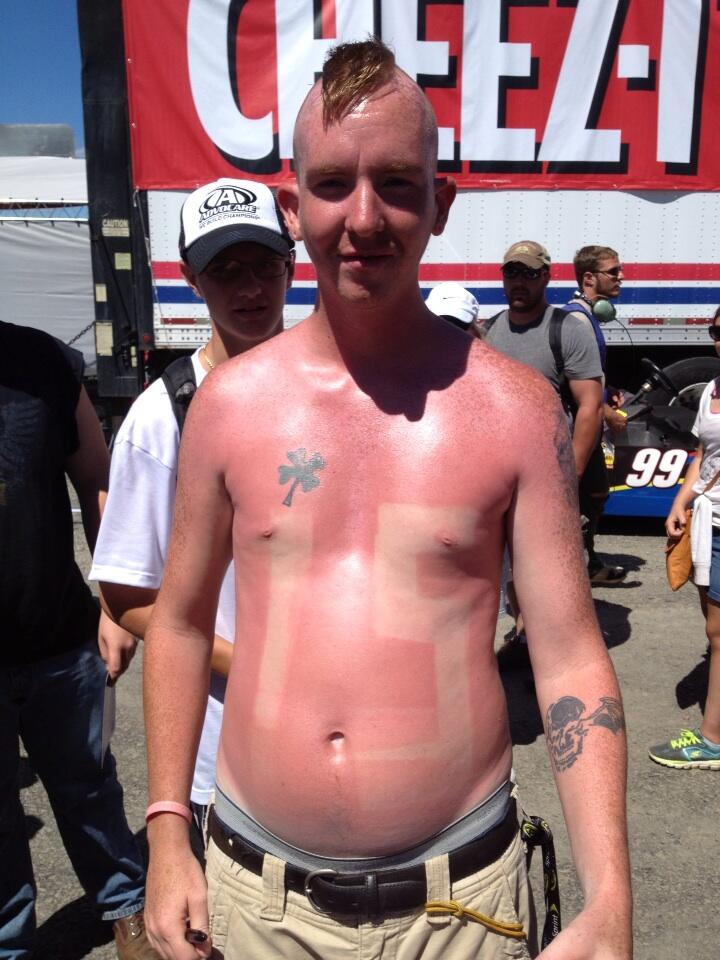 Just a man taking in a race.
7. Golf: PGA Tour Wyndham Championship (Thursday 2pm Friday 3pm live on Golf Channel Saturday 2pm live on Golf Channel 3:30pm live on CBS Sunday 1pm live on Golf Channel 3pm live on CBS. All golf from Greensboro, NC); Champions Tour Dick's Sporting Goods Open (Saturday & Sunday 4pm from Endicott, NY live on Golf Channel); LPGA Solheim Cup (Friday 9:30am & 5pm live on Golf Channel 3pm live on GolfChannel.com Saturday 9:30am Sunday 2:30pm live on Golf Channel. All golf from Parker, CO)
And after this year's PGA Championship, here's Batman Dufnering.
Which is almost as awesome as this bulldog Dufnering…
Oh man I love that more than I can explain.
6. Tennis: U.S. Open Series ATP Tour WTA Tour Western & Southern Open (Tuesday & Wednesday 11am live on Tennis Channel Thursday 1pm & 9pm live on ESPN2 Friday 11am & 7pm live on ESPN2 Saturday 1pm & 7pm live on ESPN2 Sunday 12:30pm live on CBS 4pm live on ESPN2)
So…do Novak Djokovic and Rafael Nadal just pretend like this never happened when they arrive in Cincy?
AWK.WARD.
5. Soccer: Team USA @ Bosnia-Herzegovina (Wednesday 2:30pm from Sarajevo live on ESPN2); MLS: DC United @ Montreal Impact (Saturday 7pm from Montreal live on Comcast SportsNet); Premier League season begins-matches include Liverpool vs. Stoke City (Saturday 7:45am NBC Sports Network), Swansea vs. Manchester United (Saturday 12:30pm NBC)
I announced on "The Reality Check" Monday that my Premiership fandom is up for grabs. You just have to compel me (preferably through bribes) to root for your club.
So far the Liverpool fans are winning because Jeff sent me a picture of Steven Gerrard's wife.
Compelling.
(Continued on Page 3…)