11. Carson Palmer threw for over 400 yards Sunday. Based on the well-known "Jacksonville exchange rate" that actually only counts as 227 against a real NFL team but still it's got to be a nice feeling for him.
Jason Babin ripped off Andre Ellington's dreads during the game. It was voted the most significant moment in the history of the Jags' franchise.
What you been up to recently, Michael Floyd?
12. Percy Harvin came back to play for the Seahawks in their win over the Vikings Sunday. This is particularly nice considering nothing brings our office together quite like a rousing game of "When is Percy Harvin going to get hurt again?". The bad news for me is that I took "after five plays" so I already lost. Damn.
Cancel the season. Brandon Mebane has already won the championship.
Seahawks fans work in ludicrous speed.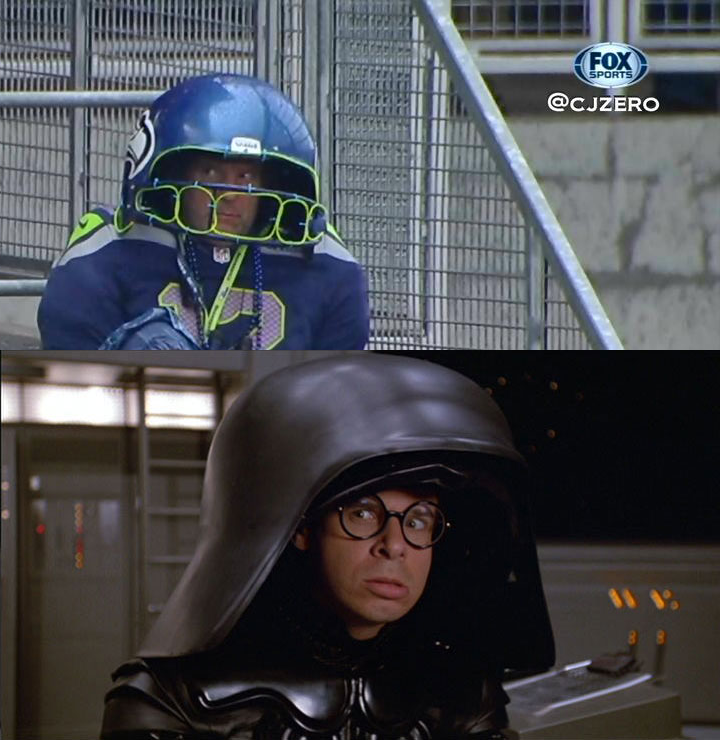 13. Central Florida needed a 23 yard field as time expired to hold off Temple and stay atop the American Athletic Conference. This was obviously a nod to Greenville, South Carolina City Councilwoman Lillian Brock Flemming-who spent 23 years as a high school mathematics teacher. Neat stuff, Knights!
You probably didn't think the post about Central Florida would be all that exciting, but that's because you didn't know JJ Worton.
14. Make it four straight wins for the New York Giants. And four straight weeks where some dumb announcer has likely said something along the lines of "I tell you what, Steve. When you've got a guy like Eli Manning on your team-you just can't ever be counted out". And four straight weeks where a Giants player has probably answered a postgame question by saying "we're just taking it one game at a time". Football is so stupid. On and also, I love you football.
If you were watching Red Zone Sunday, you probably missed most of this game. But what if you were watching the Rose' Zone?
But I think the highlight from Saturday Night Live was actually this…
No. I lied. THIS.
15. Howard down, Paint Branch next for Perry Hall in the MPSSAA playoffs. And honestly, what the hell is a Paint Branch anyway? I mean, who was the guy that said "this paintbrush just isn't big enough to finish this house, I better go get my Paint Branch instead"?
The good news for the Gators? They don't have to go up against White Swan (WA) Running Back Tony Picard-who presumably ate most of Paint Branch's team.
(Continued on Page 4…)