5. Matt Ryan may have lost Julio Jones and Roddy White but it's totally cool because he appears to have found some great new targets…in the Arizona Cardinals' secondary.
Obviously no one watched this game, so I don't have anything clever or cute to share with you.
Except this.
6. I know I'm beating a dead horse here, but does anyone want to talk about how Bowie State gave Duke a tougher fight this weekend than the Jacksonville Jaguars gave the 49ers?
But there was at least a highlight for future London Jags fans…
Yeah-apparently all of the UK somehow remains stoked for their future "NFL" team.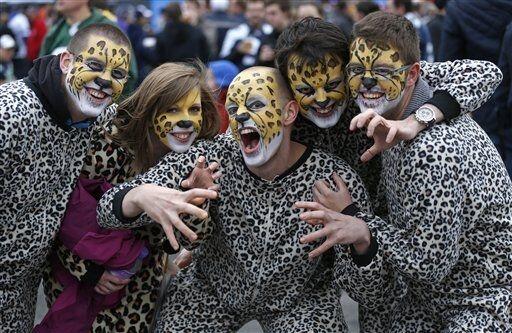 Question. What language do they speak in England again?
Here's a "Triple A" statement from SB Nation. Accurate, amazing, awful.
7. Morgan State had an opportunity for a third straight win Saturday at Howard. Unfortunately for the Bears, they took lessons from the "Matt Schaub School for Clutch Performances".
The Bears are from Baltimore…which is where Pearl Jam was Sunday night for a BLISTERING performance, including this take on The Velvet Underground's "I'm Waiting For The Man"-a nod to the late, great Lou Reed.
It was a hell of a night.
And our "zero" from outside the world of football…
You'd think there would be NO WAY our zero could be anything other than a guy getting picked off to end a World Series game, but that's only because you didn't see Greg Biffle do his best Brian McCann impression after a car race.
And after this, Biffle said "I got a couple thoughts about Yasiel Puig too".
(Hat tips to SB Nation, Deadspin, The AP, WNST.net, The Big Lead, Guyism, Yahoo! Sports, Rant Sports, Fansided, Complex Sports, Busted Coverage, Larry Brown Sports, BroBible, USA Today, @CJZero, CBS, FOX Sports, ESPN, GIFD Sports, NBC Sports, Baltimore Sun, Washington Post, ACC Digital Network, South Florida Sun-Sentinel, Maryland Athletics, Navy Athletics, BuzzFeed, Towson Athletics, Washington Post, Comcast SportsNet, NBC Sports, Perez Hilton, etc.)
Flexing my mic muscles since 1983…
-G