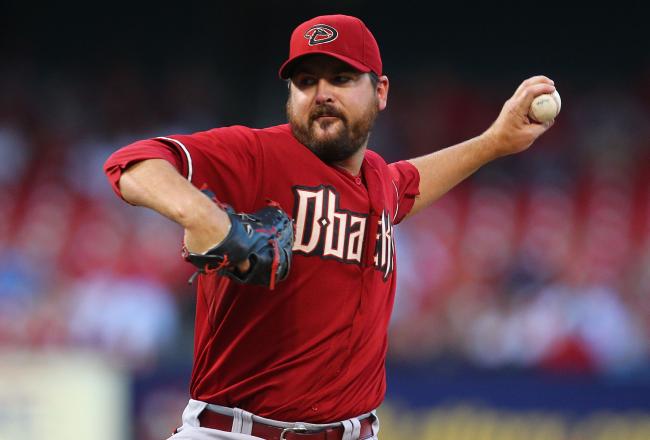 The Orioles announced yesterday that recently acquired pitcher, Joe Saunders will start tonight in the third game of a four game series with the Chicago White Sox.  Saunders comes to the Orioles with a 6-10 record in 21 games and a 4.22 ERA all in Arizona this year.
Saunders is, however, exactly what the doctor ordered for the Orioles.  He averages 6.2 innings per start and is posting the highest strikeout to walk ratio of his career at 2.87.  The Orioles have been in desperate need of a quality starter who can spare the bullpen some innings and consistently get guys out.  "They brought me over here to help them get deep into games.  I pride myself on going deep into games, pitching into the 7th-8th innings, saving the bullpen a little bit," Joe said during "Catch the Buzz" on WNST.
In addition to his tangibles, Saunders adds a veteran presence to an otherwise rather young team.  "I'll help when I can, if the guys have any questions on what to expect, I'll answer," said Saunders, "I'll reiterate the fact that it's going to be tough but September's a fun time, it's a mental grind."
Most of the players on this team have not had to deal with the pressure of a playoff race before.  Saunders will be the guy they can turn to for experience.  He has 3 playoff starts.  Two with the Angels and one with the Diamondbacks.  "There is just a difference in intensity and focus.  Everything rises, especially the last month; September is like a whole other season in itself, especially if you're in the race," Joe said in regards to postseason play.
Saunders is also a 'local' guy.  He grew up in Falls Church, Virginia (about an hour from Baltimore) and played his college ball at Virginia Tech.  He said that he and his family would make the trip up to Baltimore a handful of times each year to see the O's play.  "I'm back here at home, pitching for a team I grew up watching" he said as he met with the media earlier today.  "I remember walking on Eutaw Street and going to the left field bleachers to try and catch homeruns," he said, "so it's pretty surreal that I'm here playing for this ball club."
"I'm pretty used to pitching in high intensity games" Saunders said.  Let's hope that pays off because every game from here on out will be a high intensity game for this team as they push for a playoff berth.
Joe also understands how important this would be to the fan base. "I'm sure they are on Cloud 9.  As a new player, you have to keep them on cloud 9. You have to keep them cheering, keep putting a good foot forward.  The fans want to see success and if we can do that it would be awesome."
Saunders seems ready to buy into the attitude of that this team has had all season.  He is exactly what the doctor ordered at this point in the season. "Baltimore is there, they are hungry, the fans are hungry and hopefully we can get there."