I think predicting the record of team is trivial, especially at this point: 3 weeks before training camp has started.  You can't possibly have any intelligent insight into the teams record.  That being said, you can have a feel for certain things with the team.
I, myself, believe that this will be somewhat of a down year for the purple and black birds of Baltimore.  Down year meaning not as amazing they have been the previous 4 years.  Teams, especially in the NFL, aren't this good for this long.  The league is balanced enough so that teams cannot make the playoffs 5 years in a row like the Ravens will be trying to do this season.  I think that the players were crushed by the defeat in the AFC championship last year and I just don't see them getting back to that point.
Knowing Ravens fans though, it'll be the end of the world.  But the pain of losing makes you appreciate winning that much more.
Anyway, here are my 5 pre-training camp predictions for the Ravens:
1. Ray Rice will play under the franchise tag in 2012 – The question that has been foremost on Ravens fans minds has been ,"When will Ray Rice sign?"  I just don't believe he will at this point.  It seems the sides are too far apart.  Ray Rice wants Adrian Peterson money and the Ravens want to probably give him Arian Foster type money (which I think he is worth).  With the deadline to sign a player who has been tagged just under 24 hours away, I just don't see the two sides magically coming to an agreement by then.
2. Terrell Suggs will not return from his injury this season – Terrell Suggs's injury was serious.  Its time everyone realize this.  The kind of injury he suffered takes months to recover and is usually season ending.  I hate to question his drive and motivation, but I just get the feeling that he won't be the type of guy who works his butt off to get back as quick as he can.  I hope he proves me wrong.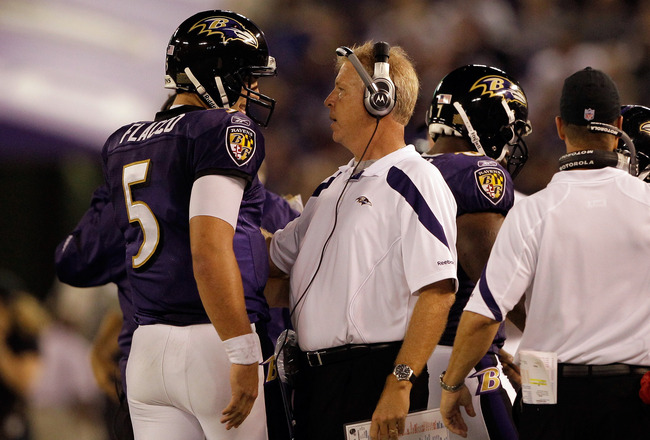 3. Joe Flacco will not turn the proverbial corner – I just don't see Flacco taking that next step to being an elite quarterback.  Not as long as Cam Cameron is the offensive coordinator.  In Cam's offense, the QB is just not the focal point.  If you look at his time in San Diego, Cam couldn't even make Drew Brees look like the great QB that we all know he is. I think Joe will have the same level of production he has always had.
4. Ray Lewis and Ed Reed will retire following the 2012 season – I thought they would retire at the end of last year; and I think they would've had the Ravens made it to the Super Bowl.  You could see that at the end of the season last year, these two guys were giving everything they had to help the Ravens win.  I don't think they have that kind of fight in them for anymore than one more season.  This is it for the Ravens icons.
5. The Ravens will not make the playoffs this year – With the emergence of the Bengals as contenders and the Steelers being perennial contenders, I don't see the Ravens fitting into the playoff landscape.  Like I said earlier, it's so difficult for teams to make the playoffs this many years in a row.
I sure hope most of these predictions are wrong but I am just being realistic.  Or maybe I am just keeping my expectations low so I won't be disappointed.  At any length, these are my "expert" opinions.