Four days ago, the NFL held their yearly Rookie Symposium.  For those of you who don't know what that is, it's essentially a job orientation.  Only this job orientation teaches valuable life lessons to young men about the dangers of the lifestyle they are about to enter in to. "We're going into this thing blindly," said Giants rookie wide receiver Rueben Randle to NFL.com. and the purpose of the event is to open their eyes.
This is one instance where the NFL is actually looking out for the players.  The NFL wants these young players to get the most out of their experience in the league and not have the experience take anything away from them because, "this game can take everything from you," said Antonio Freeman.
A guest list ranging from current to retired players came to speak at the event and included Michael Vick, Terrell Owens and Baltimore's own and friend of WNST.net Antonio Freeman.
Cautionary tales such Vick's and Owens's were told and their message was clear: they were in the same position as those rookies they were speaking to but chose to tune out the lessons being given to them.
There are a lot of challenges facing NFL players; challenges that can essentially ruin their lives if not avoided.  Money, fame and success may sound like dream life but it can also bring about issues that an ill prepared individual might not be able to handle.  Antonio Freeman told Thyrl Nelson, "there are tons of things that are going to come up in these kids lives: adversity, things to overcome and bounce back from.  It won't be an easy road."
It might be hard to be sympathetic towards these young men who make so much money but the truth is they are still young men.  They are only maybe a couple of years older than myself and I will admit that I have a hard time managing my money still (and I make essentially nothing compared to them).  They aren't worried about managing it because they have so much and believe it's not an issue.  They aren't concerned about it running out.  Terrell Owens was in their same position.  He is now struggling to pay child support.  Too often you hear about athletes 'running out' of money and it's simply because they don't have anyone helping them to make the right decisions early in their careers.
This is what the symposium tries to do.  Its goal is to enlighten these players about what they will face in the NFL.  Antonio Freeman summed it up by saying "we just want to make them aware of the resources and tools that are available to them to take advantage of…and give them the blueprint to success." 
These young athletes have to realize that not everyone in their life is looking out for them.  People are selfish sometimes and are only out for themselves.  They will try to get money out of them and will try to convince them to do things that may hurt their image or even health.  "If you're not smart, if you don't make the right decisions, if you don't surround yourself with the right people, if you don't humble yourself to learn, you go through a lot of pain" said Freeman.
Lions defensive lineman Nick Fairley is not a rookie but asked to attend the symposium anyway.  In the past year he was charged with marijuana possession and DUI.  Lions's president Tom Lewand said, "Asking to attend this year's symposium is clearly a positive action and a step in the right direction."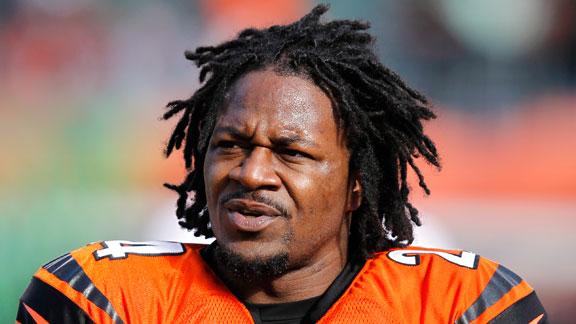 Adam "Pacman" Jones also spoke at the event saying, "The message is, this is not a joke."  Jones is another cautionary tale about what the dangers of drug and alcohol abuse can do to a young player (if you haven't seen his rap sheet I suggest you take a look at his Wikipedia page, it's honestly too long to get into on this blog).  Freeman said of Jones: "It just makes you realize you can have it all one day and it can all be gone two, three years later." Jones has been out of the NFL for some time now but is trying to make yet another comeback. Telling his story at the symposium is his first step.
One would hope that these young men learn from the stories that were told during their time at the symposium.  I can tell you that some of them will be helped by this and that some will not and will end up like a Terrell Owens.  Let's just hope it sinks in for the biggest possible majority of them.