We had an excellent time Tuesday night at Buffalo Wild Wings in White Marsh for our annual WNST.net coat drive. Thanks to all of you who came out with coats, jackets, hats, gloves, blankets, scarves and more. The end of the night tally was excellent…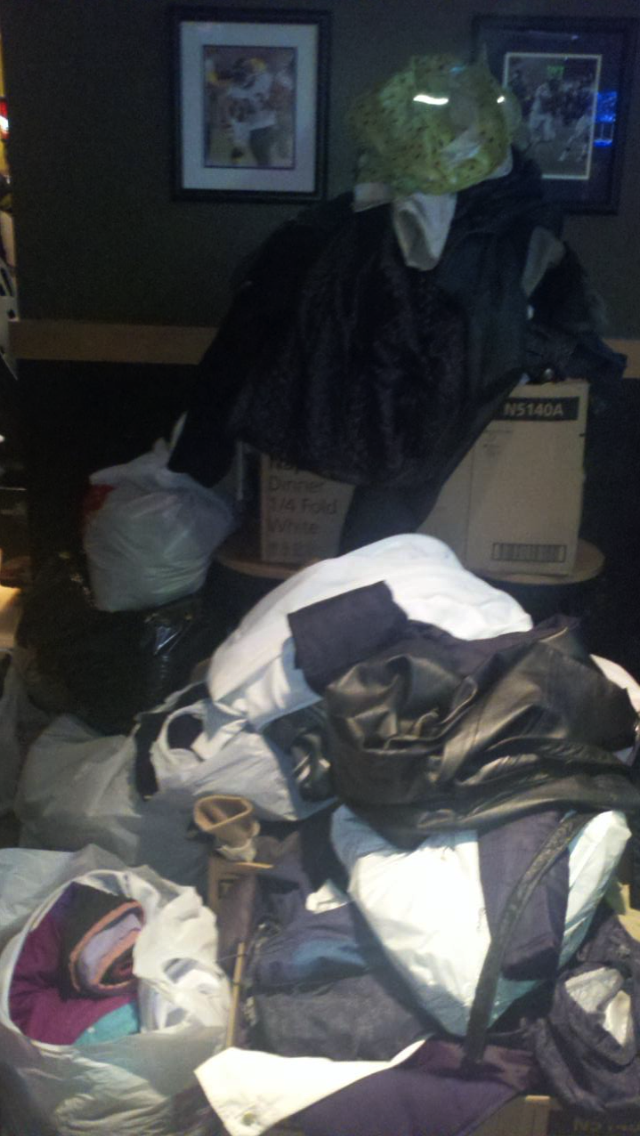 Thanks also to those of you have brought coats out to one of our "Thursday Night Live" shows with Dennis Pitta the last couple of weeks, and thanks to those of you who have stopped by The Zone Superstore studios in Towson this week with your coats as well.
We're coming down to the nitty gritty as far as collecting coats goes this year. We'll be making our annual donation on behalf of the WNST.net community to Helping Up Mission Tuesday.
But we've got one more big to-do left to get you to step up and bring us some coats!
I want to introduce you to my new friend Zack Merrick. He's the good looking guy sitting between Dennis Pitta and I at McFaul's IronHorse Tavern last Thursday…
Zack is a Towson High School graduate, big fan of the Baltimore Ravens and Baltimore Orioles and has a neat job touring the world as part of a little band called "All Time Low". Here the boys are playing "For Baltimore" recently at the MLB Fan Cave in New York…
They look like they're having fun. They're also a REALLY big deal. If you're saying to yourself "I'm not sure I'm familiar with All Time Low", you might want to ask your kids. They have about a half a million Twitter followers and you couldn't have sold an internal organ to get a ticket to one of their two recent Charm City shows.
Like I said, big deal.
So with everybody kinda bummed about the Ravens' recent slide, Zack and I decided it would be a good idea to throw a Purple Friday Pep Rally Friday on "The Reality Check". He's going to join me in studio from 3-6pm, he'll be taking over as GM of my team during "Your Picks Are Nasty", we'll be chatting with Ravens TE Ed Dickson and we MIGHT even bring back "The Airing of the Grievances" this week to celebrate Festivus.
But the much more important part is the part where Zack has offered to help to raise coats.
Zack has offered to sign autographs/pose for pictures with anyone who brings in ten or more coats (and other warm gear) to the Zone Superstore Studios Friday afternoon between 3 and 6pm. THIS WOULD MAKE A GREAT HOLIDAY GIFT FOR SOMEONE YOU KNOW-YOU JUST DON'T REALIZE THAT AT THE MOMENT.
It's as simple as that. You get ten coats. Raid your closet. Raid your kids' closets. Raid your neighbors' closets. Raid the thrift store down the street. Wherever they are, get the coats together.
Once you do, e-mail me (glenn@wnst.net) to let me know when you're coming. THEN, head to 1550 Hart Rd. here in Towson Friday afternoon to meet Zack.
And if for some reason meeting Zack Merrick isn't really your thing, I have tickets for the Coppin State-Towson game next Wednesday at Towson Center AND I still have a few copies of "The Bourne Legacy" on Blu-Ray as well.
Anything I'm forgetting? Let me know.
See you Friday afternoon. Go Ravens!
-G