Ahh, we're just a couple days into renewed peace around NFL circles and we're already being provided with enough storylines to finally disregard the lists of "BEST OF …" and "WORST OF …" that served as filler for radio programming, blogs and Twitter topics for the past few months.
Indeed, football is back …..
So, too, will be my "50 words" blogs, albeit on a random basis. After all, having such a format will give me opportunities to cover an array of topics, while maximizing your limited time to spend on blogs during breaks in the workday.
It's a WIN-WIN, right?
So, without further delay, here's your renewed edition of 50 words …..
.
.
Sobering Reality For A Couple Ravens
As the news of Derrick Mason and Todd Heap becoming salary cap casualties in the process of molding the 2011 edition of the Ravens, I have begun to draw a few distinct conclusions.  However, the most telling from my perspective is we are probably witnessing the first time these two players have been cut by any team  ….
.


.
All of us have experienced "the axe" at one intramural level or another, right?  Yet, Mason and Heap are probably feeling the effects of such a staunch rejection for the first time in their entire lives.  I would imagine it's a tough pill to swallow ….
.
.
Another Night, Another Loss
While many of us are primarily focused on what's happening at One Winning Drive, along with an occasional eye glanced at the Orioles (they actually won, last night), there is another story or situation worth watching ….
.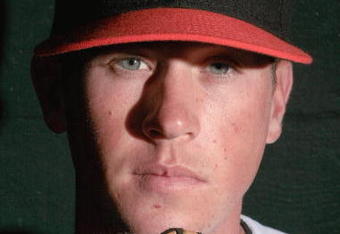 .
The tale of Brian Matusz is becoming more bewildering with the passing days.  Last night, Matusz found himself in immediate trouble, as he surrendered 3 walks and threw almost 30 pitches in the first inning of his start for the Norfolk Tides.  His final line:  5IP, 3ER, 7H, 3BB, 0K ….
.
.
Thanks, Steelers
Many of us awakened to learn the Pittsburgh Steelers blessed us with a big favor, last night.  That's right, they gave Ike Taylor a new 4-year deal to remain part of the team's secondary.  But, if you think Baltimore fans are happy, there's a great chance a member of the Ravens is ecstatic ….
.


.
Quarterback, Joe Flacco, was all smiles as he learned the news.  Then again, any quarterback would be overjoyed to learn the archrival was bringing back a cornerback who is best described as one step up from a sawhorse on training wheels.  Many thanks, Mr. Rooney ….
.
.
I Wanna Thank Jesus … For My Smokin' Hot Wife
Even the casual NASCAR fan knows the green flag of each race is preceeded by an invocation by a clergyman.  That said, what transpired at Nashville Speedway, prior to last Saturday's NASCAR Nationwide event was simply priceless ….
[youtube]http://www.youtube.com/watch?v=J74y88YuSJ8&feature=related[/youtube]
I hope you weren't drinking anything while watching the video of Pastor Joe Nelms delivering his rendition of a prayer.  Regardless of anyone's religious beliefs, I think it was pretty cool to witness such a lighthearted expression of words.  Oh yeah, and did you catch Carl Edwards' reaction?
Happy Wednesday …. tune in this afternoon at 2pm !!!!