When I reflect back on the final days of March and all the optimism that surrounded this 2011 edition of the Orioles, I come to one distinct conclusion:
ALL OF US WERE SNOOKERED ….
And, this includes every single soul who follows, loves and ultimately believes the beleaguered franchise will eventually improve.  On such a list, fans, media members and anyone with a related interest in the ballclub are all heaped together.
Not a single one of my brethren thought this team would be WORSE than last year's product ….
Not a single listener called me and voiced a pessimistic view of the season, especially with Buck Showalter at the helm for a full 162 games ….
Indeed, we consumed and digested the potion pitched by Buck's birds over the final couple months of 2010.  We chose to rally behind the Showalter energy, especially with the visual reminders on billboards around town and the corny commercials courtesy of MASN.
All of us were fooled, because we chose to believe our hearts.  And, to be quite honest, we chose to ignore the very basics of baseball; pitching is the root of winning at this very highest level of the game.
A year ago, today …. on August 9th, 2010, the Orioles rattled off their sixth victory in seven attempts under the guidance of a newly appointed Showalter.  Under his tutelage, they displayed a renewed vigor and devotion to the basics of winning baseball.
Today, the team is reeling.  They've lost eight of the last ten contests and it seems as if they invent ways of squandering leads and outcomes, just as they did last night.  Of course, this dilemma is compounded by a current starting corps of pitching that might be the most dismal witnessed in years.
And, this is exactly where ALL OF US took the bait and fooled ourselves in the context of conventional wisdom and history's teachings, if nothing else …..
It's easy to sit back and blame Vlad Guerrero for not living up to expectations.  Say what you will, he's not the primary problem.  Vlad is hitting a disappointing .274, with 9 homers and 15 doubles, but the problems run much deeper than a lackluster effort from the designated hitter.
Yes, you can defer any blame headed Mark Reynolds' way, as well.  He's hitting .219, with 26 homers and a peutrid 26 errors.  But, he too, is not part of the root problem with this Orioles team.
The blunt truth is Andy MacPhail and Buck Showalter gambled the entire house on a young, inexperienced pitching staff ….
.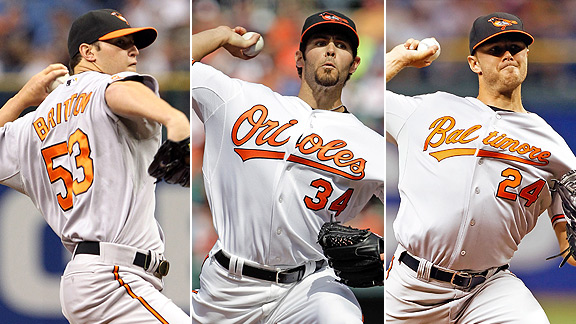 .
Prior to the start of this 2011 season, Jake Arrieta, Zach Britton and Chris Tillman owned a combined 41 big league starts.  And, Britton claimed none of those numbers.  Yet, each of these young pitchers had a spot in the rotation to start the season.
Of course, Britton's inclusion was necessitated by an injury to Brian Matusz – which surfaced just hours before the season opener. 
Yes, this is the same Brian Matusz who has not returned to his 2010 form.  Heck, he probably hasn't found a repertoire consistent to 2008, when he starred in the rotation at the University of San Diego.
As for the others, we know where they're hanging their hats these days …..
Jake Arrieta is done for the season, due to injury.
Zach Britton also finds himself on the disabled list.
And, Chris Tillman is in the current rotation, because there isn't a body to challenge for the spot.
In vivid honesty, MacPhail obviously overestimated the durability and overall readiness of the organization's young pitching prospects – and we bought in !!!!
Call it blind faith or a belief in what Buck Showlater produced in last season's abbreviated window …. or a hope that things couldn't get much worse.  But, just like the Orioles' President of Baseball Operations, we too, overrated the inexperienced and largely untested pitching prospects.
Following last night's loss, the Orioles find themselves at 44-68, which is just 6.5 games ahead of last year's team.  And, remember that's a team that mounted a 28-22 record over its fnal 50 games.
This current edition of the Orioles also has 50 games remaining.  They're a team that has lost 9 out of 12, as well as 27 of its last 36 contests.  The starting pitching staff bears one name that would merit a spot in most rotations around the game.
They need to win 20 of the final 50 games to avoid suffering the worst organizational record since the trainwrecked 1988 season.
I'm betting they won't do it.  I'm just being honest – I don't see how this team wins 2 of 5 games throughout the remainder of the schedule. 
Is this team worse than 2010?  Heck yeah …. it's going to be the worst Orioles team in the last 23 years.